Dear parents!
Thank you for your interest in our Miras International School
Welcome to the Admission Office:
Work hours: Monday through Friday from 8.00 to 17.00
Tel. 8 727 242 16 76
8 727 242 16 65
8 771 104 00 80
Email: admissions@miras.kz
Dear parents, Miras International Preschool Open Enrollment for children from 3 years old.
We offer:
learning and teaching in Kazakh or Russian according to the author program;
inclusive approach to teaching and learning;
comfortable classrooms with up-to-date equipment;
balanced meal 5 times a day;
qualified healthcare staff;
spacious area, playground;
24 hour security.
Work schedule: 8.00 – 18.00
Additionally
Speech therapist/ Psychologist
English
LEGO construction
Dance
Music and sport classes
Admission steps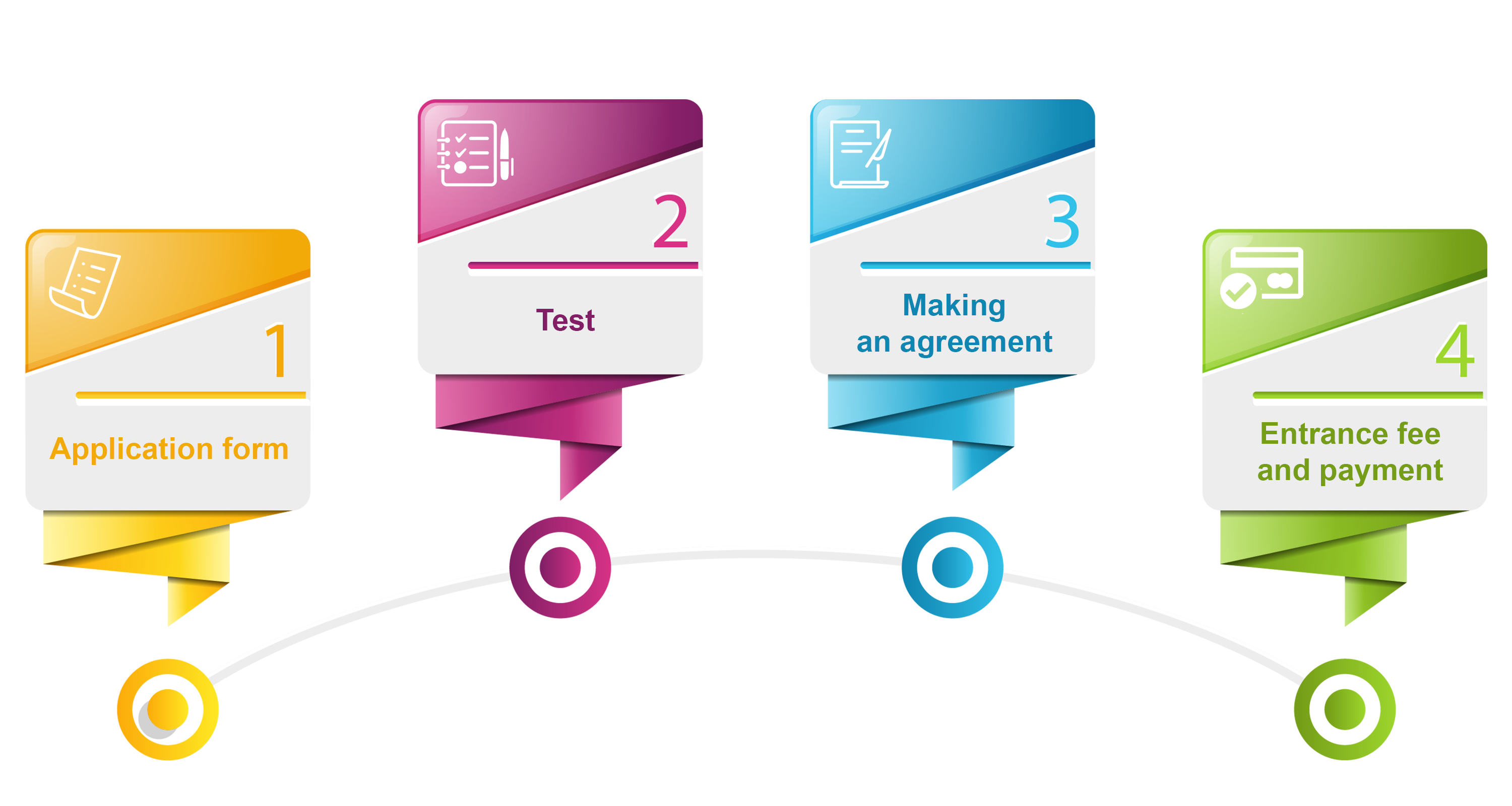 For further details and a step-by-step admission procedure click here
Admission procedure
Reading the information about the school on the school website miras.kz (the information about school curricula, policies, etc.).
Meeting with the admission officer. Familiarization tour of the school.
Writing an application form.
The date of the entrance test is set. The cost of test is 12000 Tenge. The entrance fee is paid to the Accounts Department.
Test.
The test results are communicated (within 3 working days)
Making an agreement. Enrollment order registration. For that, the required documents must be submitted (the reference to the page with the list of the documents).
Age and corresponding Grade/ Preschool group
Age as of 1 September

3

4

5

6

7

8

9

10

11

12

13

14

5

16

17

Primary school Secondary school

Grade

Nursery

Junior

Kindergarten

Grade 1

Grade 2

Grade 3

Grade 4

Grade 5

Grade 6

Grade 7

Grade 8

Grade 9

Grade 10

Grade 11

Grade 12
Admission is based on the results of entrance testing with a glance to the age of the child.
Primary School Admission Procedure (Preschool, Kindergarten, Grades 1-4)
Preschool and Kindergarten
The prospective student for Preschool or Kindergarten has an interview with a psychologist, teacher and coordinator.
The prospective student for Kindergarten has also an interview with a Kindergarten coordinator in Mathematics and either Kazakh or Russian or English (based on the prospective language of instruction).
The Head of School makes the final decision on student admission to Kindergarten and Pre-school.
Grades 1-4
Entrance test:
Mathematics (in one of the languages of instruction at Miras school: Kazakh, Russian or English);
Kazakh, English or Russian (in accordance with the prospective language of instruction);
English (for international non-native English speakers);
Собеседование с психологом (для 1 - 2 классов).
Interview with the school psychologist (Grades 1 and 2)
For enrollment, students must get 60% or higher grade in the entrance test.
Secondary School Admission Procedure (Grades 5-10) and Grade 11 (Kazakhstani Program)
Entrance test:
English and Mathematics (for English Taught Stream)
Russian, English and Mathematics (for Russian Taught Stream)
Kazakh, English and Mathematics (for Kazakh Taught Stream)
A minimum score of 60% in the English, Kazakh or Russian test is required. Students who obtain a score from 50-59% may be entered on probation if they perform successfully in the interview. For students who study in English and whose language level is sufficient for good study, a special ESL language program has been developed through which further improvement of language proficiency is carried out.
A minimum score of 50% in the Mathematics test is required. The students who obtain 35-49% may be accepted on probation, if there are reasonable grounds for that such as lack of knowledge on the test topics.
Students are admitted to Grade 11 Kazakhstani program based on the student's language of instruction in secondary school (Russian or Kazakh), parents' application and a lower secondary education certificate or MYP certificate.
Diploma Program Admission Procedure IB (Grades 11-12)
Entrance test:
First Language (English, Russian)
Part 1: Analysis of literary text
Part 2: Essay
English as a second language (ESL)
Part 1: Reading comprehension
Part 2: Essay
The DP entrance tests are administered at the Foundation schools in the cities of Nur-Sultan and Almaty in the second half of April, May and in the second half of August. Students who fail (an) exam(s) in April are allowed to retake the subject(s) in August.
Entrance tests can be arranged in the candidate's present school provided that the tests are taken under strict exam conditions. Exam scripts must be scanned and emailed to the Diploma Programme Coordinator and hard copies mailed to Miras Almaty or Nur-Sultan.
Interview
Should exam results be inconclusive, Miras may request that the student attend an interview with the Secondary School Principal and DP Coordinator